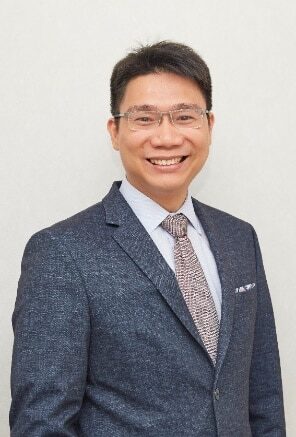 Dr. Jacky Li graduated from The University of Hong Kong in the year 2008.  He was trained in Queen Elizabeth Hospital and obtained his fellowship in Clinical Oncology from Hong Kong College of Radiologist in the year 2016.  He has been subspecialised in lung cancer treatment and received overseas training with a focus on advanced radiotherapy technique from University Hospital Seidman Cancer Centre in Cleveland, Ohio, USA and National Cancer Centre Singapore.  He has had active participation as principal investigators in over 30 multi-centred international clinical trials on lung cancer.  His current interest is on the precision medicine and immunotherapy in various solid tumors.  Dr. Li is the Founding President of Hong Kong Oncology Study Group established for the promotion of cancer-related clinical trials in Hong Kong.  Dr. Li is also unique in that he conducts a huge variety of clinical trials while he serves as a private clinical oncologist in the Hong Kong United Oncology Centre.
Two important publications listed in specific:
Jacky Yu-Chung Li, James Chung-Man Ho, Kam-Hung Wong.  T790M mutant copy number quantified via ddPCR predicts outcome after osimertinib treatment in lung cancer.  Oncotarget 2018 June 15;9(46):27929-27939
Ross Camidg, Hye Ryun Kim, … , Jacky Yu-Chung Liet al. Brigatinib versus Crizotinib in ALK-Positive Non-Small-Cell Lung Cancer. The New England Journal of Medicine (September 25, 2018 DOI: 10.1056/NEJMoa1810171)
ALK Translocated Non-small Cell Lung Cancer
Dr. Jacky Yu-Chung Li, Hong Kong United Oncology Centre
Approximately 3%–5% of patients with NSCLC have oncogenic rearrangements in the anaplastic lymphoma kinase gene (ALK). Crizotinib is effective in ALK-positive (ALK+) NSCLC, but most patients experience disease progression on crizotinib caused by acquired ALK resistance mutations, secondary driver pathways, or poor central nervous system (CNS) drug penetration. After crizotinib, next-line treatment with second-generation ALK inhibitors ceritinib and alectinib, and third-generation inhibitor lorlatinib, is associated with median progression-free survival (PFS) of less than 1 year.  Brigatinib is a next-generation oral ALK inhibitor approved in the United States and European Union for the treatment of metastatic ALK+ NSCLC patients with progressive disease on or with intolerance to crizotinib.  It demonstrated an PFS of over 16 months and become preferred choice in the post-crizotinib setting.
Hong Kong International Oncology Symposium – Biomarkers and New Therapeutics