It is a series of symposiums to discuss how 3D imaging helps in surgical planning and guidance for achieving precision surgery under 3 specialities: Thoracic, Urology and Hepatobiliary and pancreas.
In the first webinar, we are honoured to have three well-known and admirable speakers to share their knowledge, experience and insights regarding the existing challenges, development and the future of precision thoracic surgery.
Dr. Alan Sihoe will share the crucial elements of practising precision thoracic surgery, the new opportunities in precision thoracic surgery and point out the challenges that thoracic surgeons face in the future.
Dr. Matthieu Sarsam will share his experience in utilizing 3D imaging in thoracic surgical planning and practical patient cases.
Dr. Masaaki Sato will share the latest development in 3D imaging for thoracic surgery and insights in precision thoracic surgery.
Topic 1: Precision Thoracic Surgery – Fundamentals, Potentials, Challenges | Dr. Alan Sihoe
Dr. Alan Sihoe delivered a comprehensive talk on Precision Thoracic Surgery, exploring its fundamental aspects, challenges, and opportunities. He began by defining Precision Thoracic Surgery as a blend of personalized and localized therapy, where advancements in molecular biology and surgical techniques enable precise treatment selection and surgical approaches. This definition has evolved due to the integration of minimally invasive techniques, like VATS and robotic surgery, for more tailored and effective procedures.
He emphasized the importance of Precision Thoracic Surgery in the context of lung cancer screening, particularly with the rise of small lesions and ground-glass opacities (GGOs) found through low-dose CT scans. Dr. Sihoe discussed the dilemma between overdiagnosis and undertreatment of these lesions and how Precision Surgery, particularly minimally invasive sublobar resections, can strike a balance.
Dr. Sihoe highlighted the challenge of validating the outcomes of Precision Surgery technologies. He expressed concern that many studies rely on broad outcome measures like operative time and blood loss, which don't directly correlate with technology effectiveness. He called for more specific outcome measures that truly reflect the impact of these technologies.
The value of incorporating new technologies into Precision Surgery was another focal point. Dr. Sihoe stressed that while technology can improve patient outcomes, there should be a balance between cost, risk, and benefit. He discussed the potential benefits of using Precision Surgery to optimize the timing of adjuvant therapy and to minimize circulating tumor DNA after surgery, indirectly influencing patient survival.
Dr. Sihoe concluded by urging surgeons to critically evaluate the integration of new technologies in Precision Thoracic Surgery, considering both their validation and their true value in enhancing patient outcomes.
Topic 2: State of the Art in Thoracic Surgical Planning and Guidance | Dr. Matthieu Sarsam
Dr. Matthieu Sarsam's presentation focused on the role of 3D reconstructions in the field of personalized surgery, particularly in thoracic surgeries. He highlighted the practical applications of 3D reconstructions in various surgical procedures and emphasized their benefits for both patients and surgeons.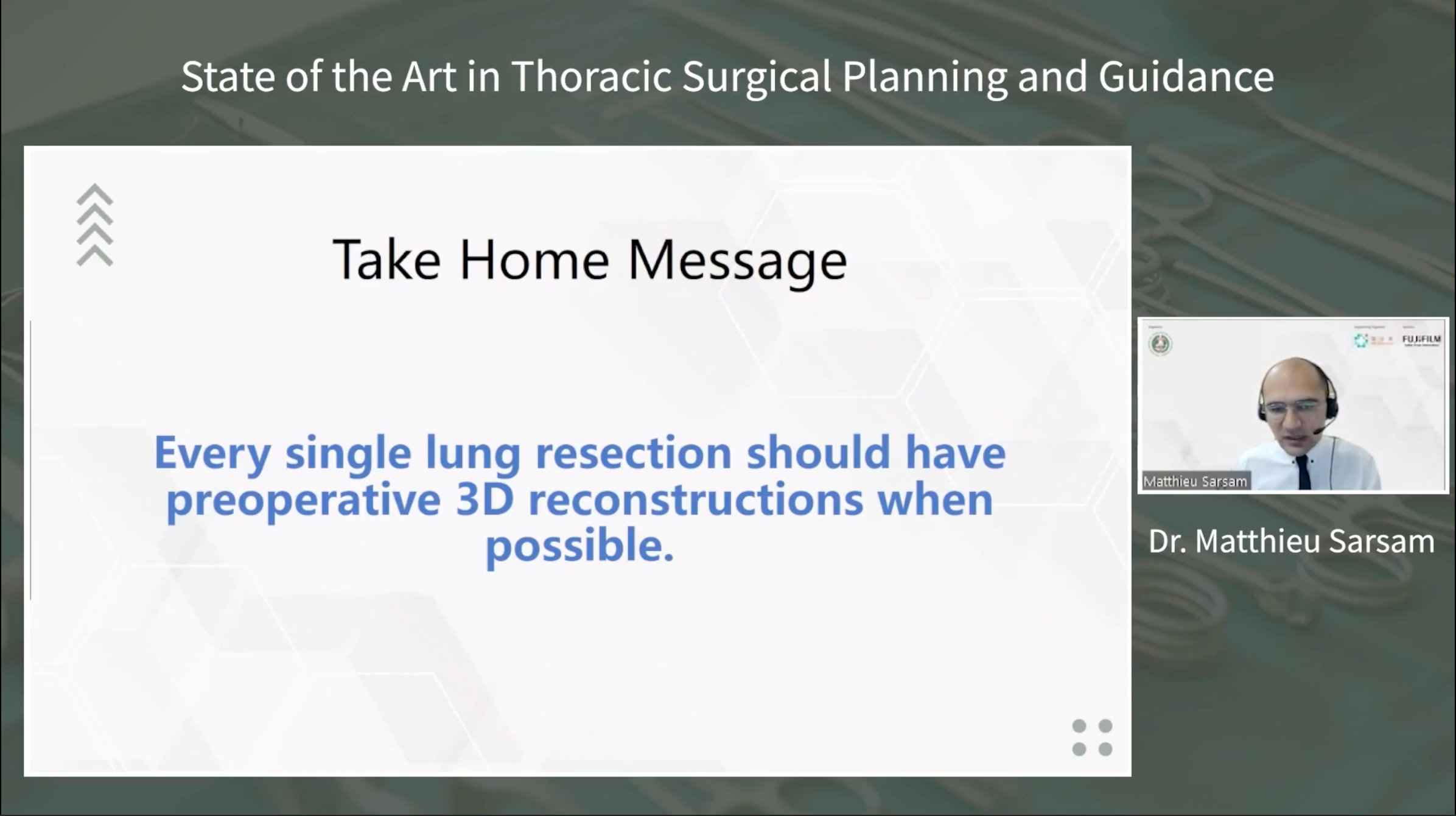 Dr. Sarsam discussed the use of different software tools for 3D reconstructions, including Visible Patient, Synapse 3D, and 3D Slicer. He mentioned the advantages and limitations of each software, with a focus on their usability and the cost associated with them.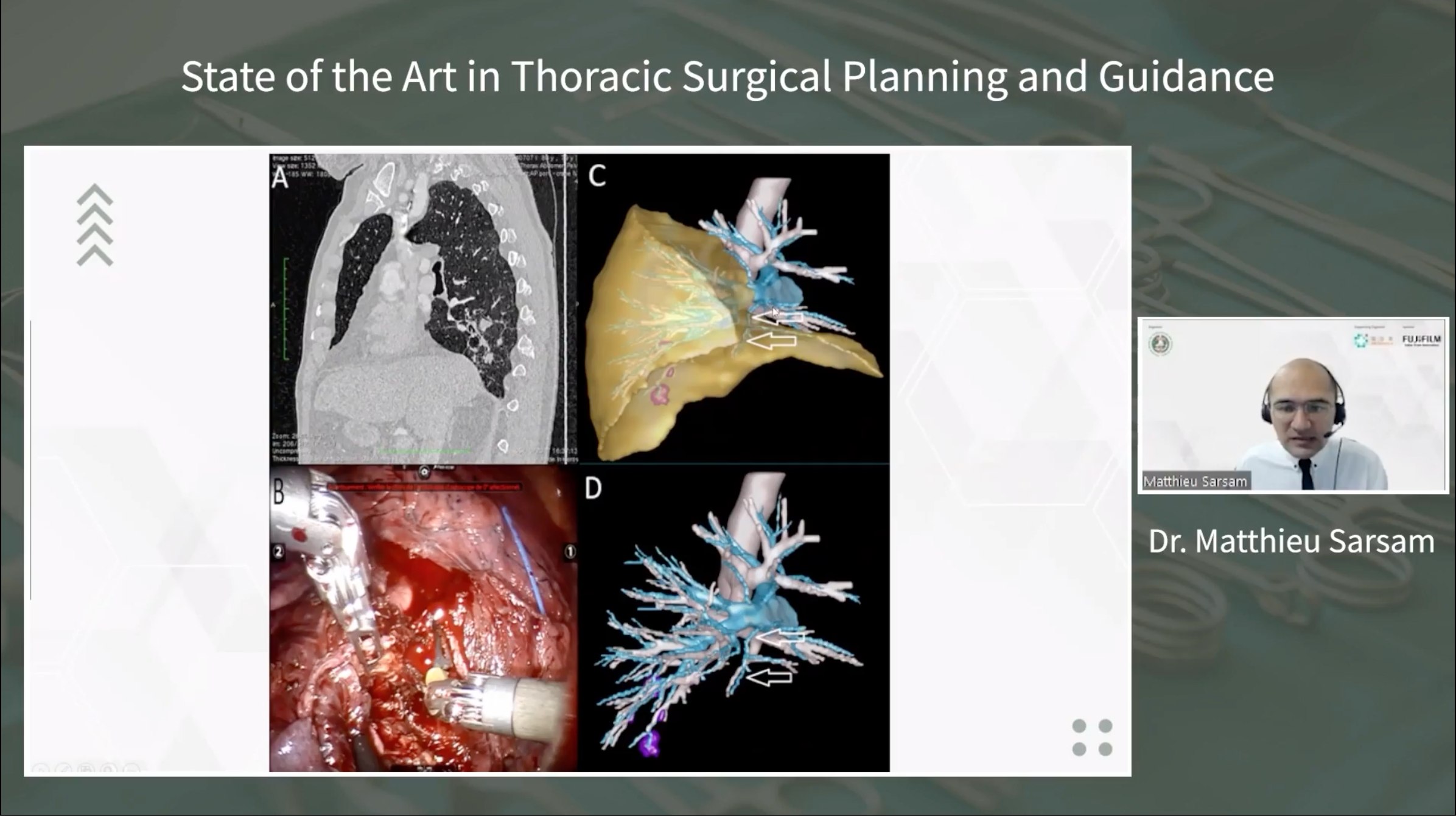 He explained how 3D reconstructions have been integrated into his surgical practice, especially in cases like segmentectomies for lung lesions. He shared insights from various cases, demonstrating how 3D reconstructions aided in understanding complex anatomical variations, guiding surgical planning, and ensuring adequate margins during resections.
Dr. Sarsam emphasized that 3D reconstructions provide invaluable assistance in understanding anatomical structures, identifying variations, and enhancing surgical precision. He concluded by advocating for the routine use of pre-operative 3D reconstructions whenever possible to improve patient outcomes and surgical safety.
Topic 3: Latest Advances in 3D Imaging for Thoracic Surgery | Dr. Masaaki Sato
Dr. Masaaki Sato, a distinguished thoracic surgeon from the University of Tokyo, presented the latest advances in 3D imaging for thoracic surgery during the webinar. Dr. Sato began by addressing the implications of studies that indicated a potential rise in sublobar resections due to recent findings. However, he emphasized the need for precision, particularly in achieving accurate sublobar resections to ensure optimal outcomes.
The presentation highlighted the innovative technique known as "VAL-MAP 2.0," a combination of lung surface dye mapping and intra-bronchial coil placement. This approach allows for meticulous three-dimensional lung mapping, aiding in deep resection margins and segmentectomies. Dr. Sato showcased the successful application of this technique, which demonstrated superior outcomes compared to traditional methods.
Another significant advancement discussed was the 3D imaging of pulmonary arteries and veins without contrast. This remarkable development allows for clear visualization of vascular structures, even in patients with contrast allergies. Dr. Sato provided detailed examples, showcasing the precision of this new imaging mode.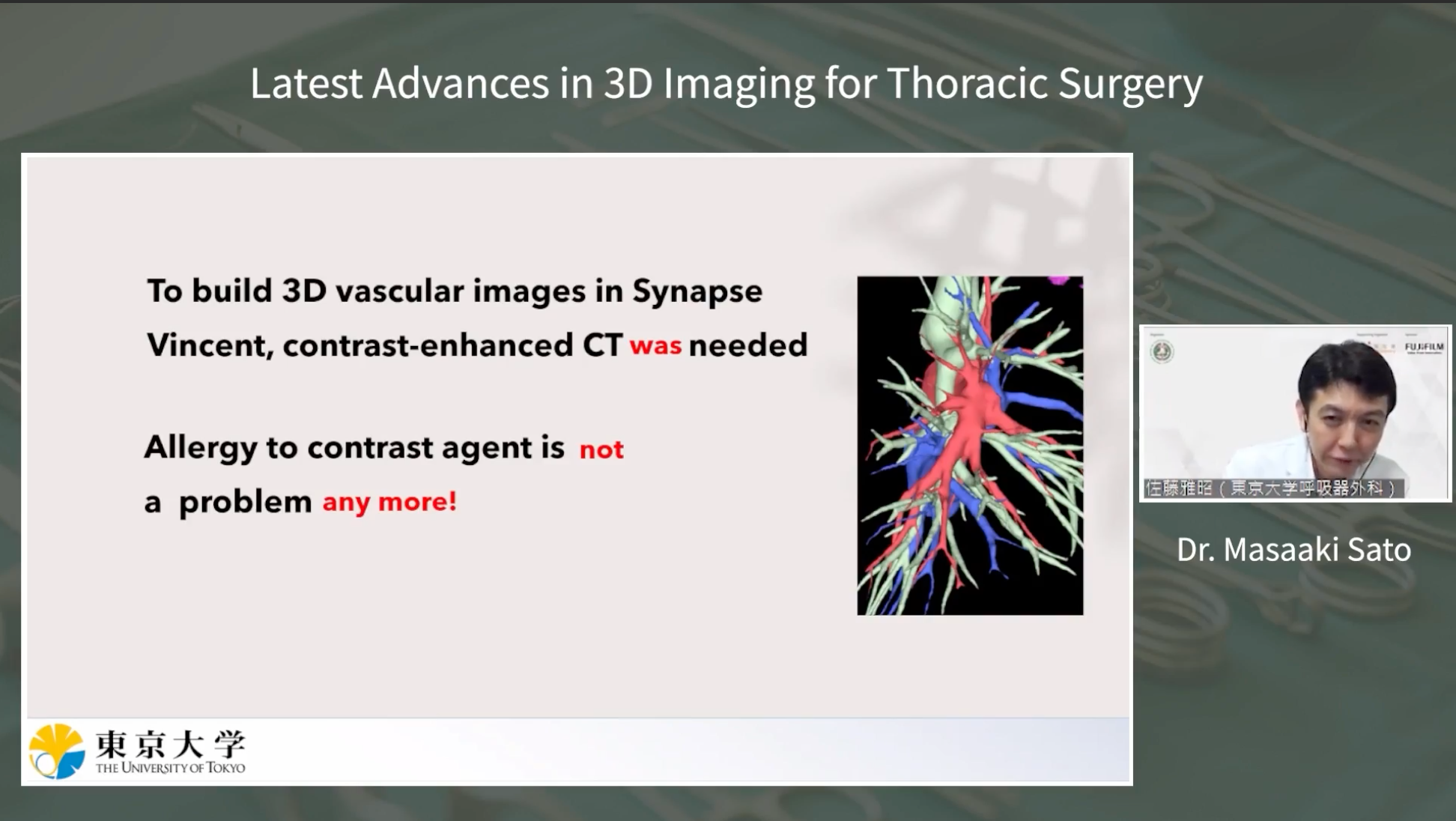 The presentation concluded with an introduction to the lung collapse mode, an innovative feature that simulates lung collapse during surgery. This cutting-edge simulation enables surgeons to visualize the collapsed lung, facilitating accurate tumor resection planning. While the mode is relatively new, it shows promise in enhancing surgical precision.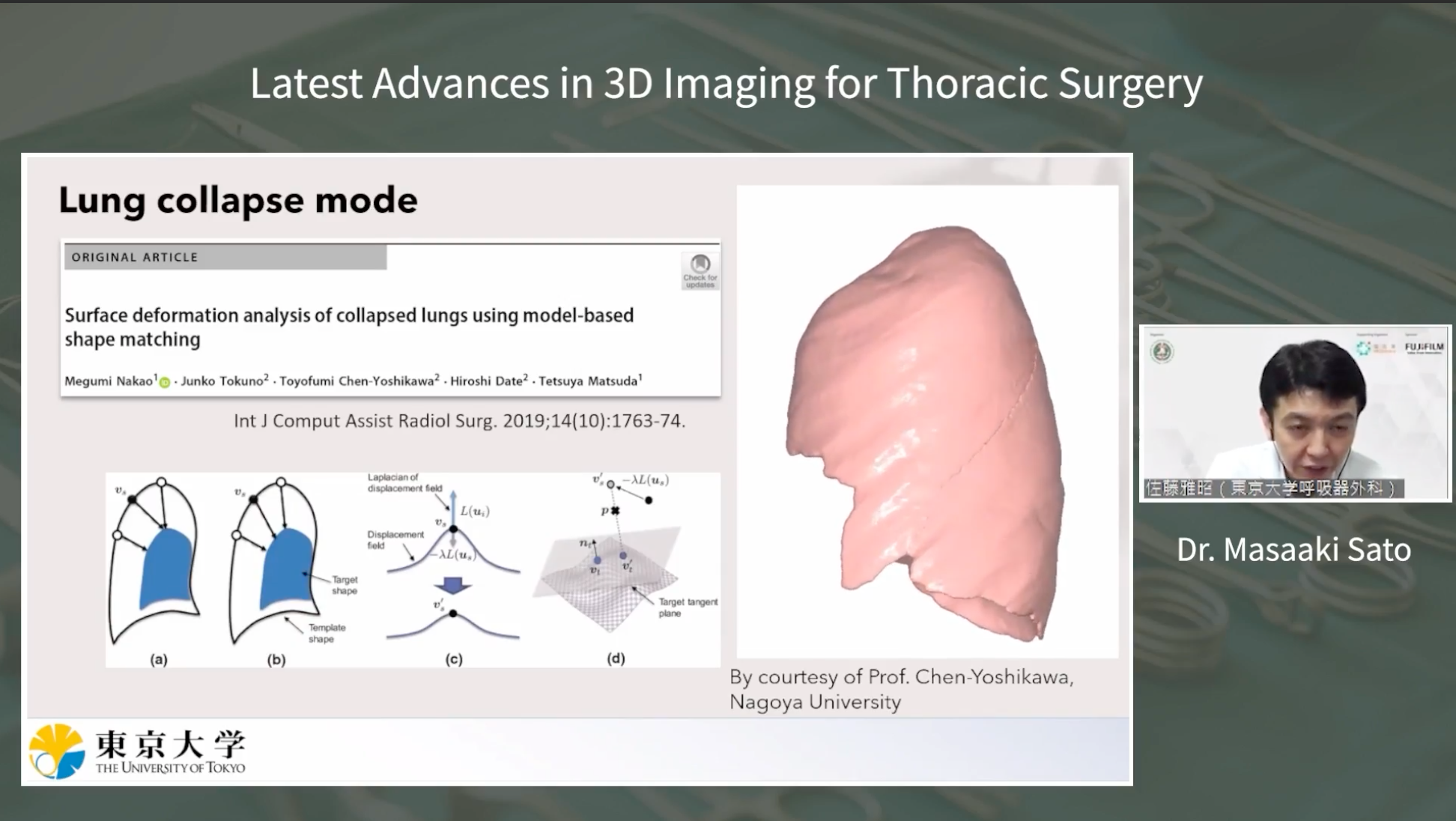 Dr. Sato's presentation underscored the importance of continuous advancements in surgical imaging techniques, ultimately leading to improved patient outcomes. The webinar attendees gained valuable insights into the latest innovations shaping the field of thoracic surgery.
To view the entire webinar, please click here.