"Consensus Statements on Precision Oncology in the China Greater Bay Area", an article published recently on JCO Precision Oncology, is completed by 30 experts from within the Greater Bay Area after two years of work. The article set out the framework on the development of Precision Oncology in the region.
The Consensus Statements established an evidence-based strategy for implementing precision oncology in the China Greater Bay Area. It identified key areas for the development and implementation of precision oncology (PO) and standardized the guiding principles for certain clinical applications with sequence-directed therapy in the region.
Click here for the Chinese Version 中文版本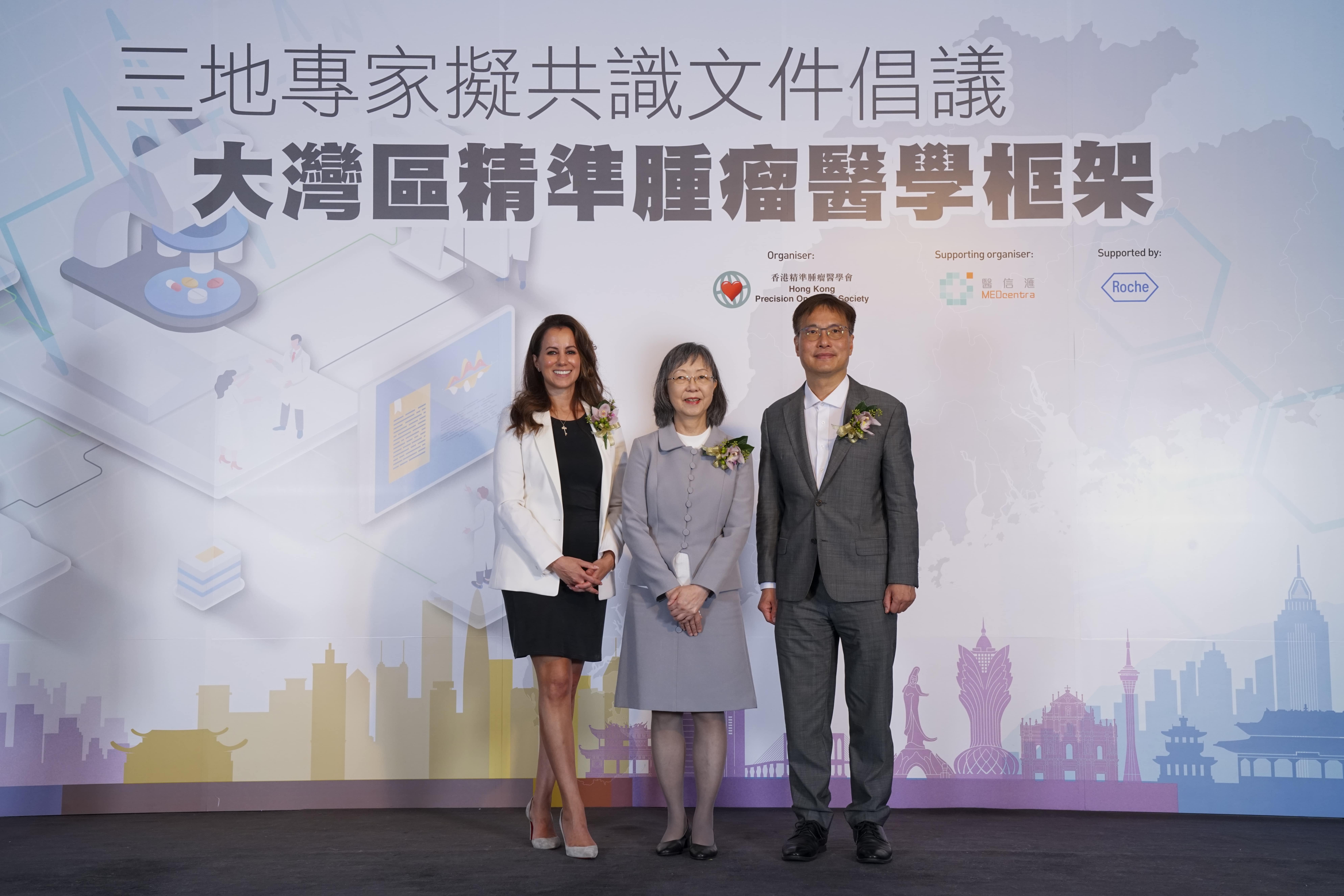 One of the key suggestions in the Consensus Statements is to standardize the reporting and quality assurance of Next-Generation Sequencing – Comprehensive Genomic Panels (NGS CGP). Dr. Anne Lee, Deputy Chief Executive of the Hong Kong University – Shenzhen Hospital, said that while in Hong Kong, FDA approved tests are available, NGS CGP is not yet within routine clinical service in the Mainland. Patients in the Mainland have to look for and pay for tests of this kind. Since there is no test yet approved by the NMPA (National Medical Products Administration), the quality of the tests varies. Therefore, there needs to be clinical evidence to support so that there can be quality-assured tests in the Mainland. At present, lung cancer patients in Hong Kong who cannot afford NGS CGP may participate in local precision oncology program and take the test free-of-charge at seven public hospitals. They may also have financial support from charitable organizations.
Another key suggestion in the Consensus Statement is to provide Molecular Tumor Board (MTB) support for patients in need. Dr. Aya Helali, Clinical Assistant Professor, Department of Clinical Oncology, LKS Faculty of Medicine of Hong Kong University, said that patients that have exhausted all lines of treatment, may take the NGC CGP test and then enjoy MTB help in identifying clinical trial. This extra support to patients that improves survival outcome comes with no charge, meaning there won't be extra financial burden for the patient.
The 30 experts, from the Mainland, Hong Kong and Macau respectively, formed the "Precision Oncology Working Group" (POWG) to work on the consensus statements. The collaboration was initiated by the Hong Kong Precision Oncology Society (HKPOS). 
Dr. Joseph Au, President of the HKPOS, said that the POWG reached consensus in six key statements, which include:
Harmonization of reporting and quality assurance of Next-Generation Sequencing – Comprehensive Genomics Panel (NGS CGP);

Molecular Tumor Board (MTB) and clinical decision support systems for precision oncology;

Education and training;

Research and real-world data collection;

Patient engagement, regulations and financial reimbursement of precision oncology treatment strategies;

Clinical recommendations and implementation of precision oncology practice.
Next-Generation Sequencing – Comprehensive Genomics Panel (NGS CGP) is a relatively new and developing technology. It can sequence more than 300 cancer-related genes within a short period of time. The sequence variants/mutations detected by NGS have been widely used to guide anti-cancer therapy. NGS CGP provides a comprehensive genomic insights to clinicians, empowers them to make informed decisions, leading to improve patient outcomes.
Of the six scopes in the Consensus Statements, Dr. Joseph Au pointed out that the most important one is to harmonize the reporting and quality assurance of NGS CGP since it is the basis in the implementation of precision oncology. It is vital to select a good quality NGS so as to provide adequate and accurate genomic information to the clinicians. For patients with advanced cancer, it is recommendable to have NGS with Comprehensive Genomics Panel, as it can detect genomic mutation in wide range of cancer related genes, assisting clinicians in identifying the potential treatment options and saving valuable time and precious samples.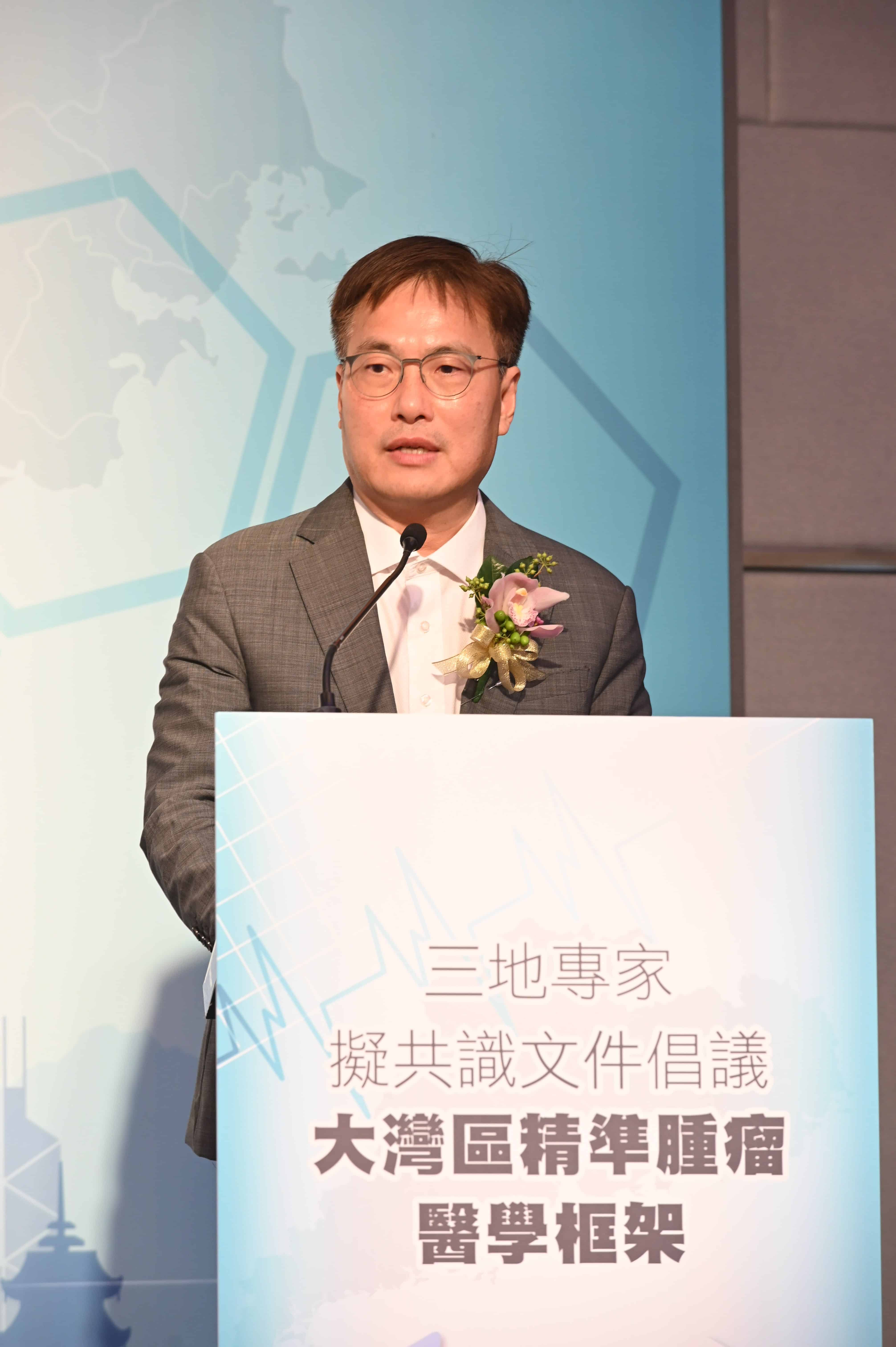 Dr. Anne Lee said, "To interpret the complex insights from NGS and to select the most optimal targeted therapy is often not easy. That is why it is recommendable to arrange Molecular Tumor Boards for complicated cases."
Dr. Aya El Helali, who has been working on Molecular Tumor Board in Hong Kong, said that the MTB is an essential clinical infrastructure for implementing precision oncology into clinical practice. The MTB, consisting of experts from multi-disciplines, will be able to discuss the findings of NGS together and come up with the best therapeutic option for the patient.
The Hong Kong University and The Hong Kong Sanatorium Hospital established multi-disciplinary Molecular Tumor Board (MTB) in 2018 to aid frontline oncologists by integrating NGS to facilitate the implementation of precision cancer medicine into clinical practice. Dr. Helali, who studies the impact of MTB on patient outcomes, said that among the patients with heavily pre-treated advanced solid cancers, MTB guided treatment could positively impact survival outcomes, thus illustrating the applicability of NGS CGP in real-world clinical practice. The study showed that patients who received MTB guided treatment achieved a significantly longer median overall survival than those who did not receive MTB-guided therapy (+7.5 months) and the Disease Control Rate was 65%.
Dr. Helali said that the POWG recommends the following members as being integral to the composition of the MTB: (1) oncologists and clinicians with cancer subspecialties, (2) molecular pathologists, (3) cancer biologists, (4) pharmacists, (5) clinical geneticists, (6) bioinformaticians, (7) biostatisticians, and (8) data scientists.
"There are up to 250 thousand new cancer cases in total within Guangdong, Hong Kong and Macau. It would benefit patients in the region as a whole to have a unified standard in the implementation of precision oncology. The research and studies conducted within the GBA will also be a great advantage for the whole of China and the entire Asian race." said Dr. Lee.
Developing precision oncology in the GBA will also bring in more talents and investments to Hong Kong, which will lead to a blossom in various aspects of precision oncology. 
For the advancement of precision oncology in the GBA, facilitate studies on cancer patients and clinical co-operation, Dr. Au said the precision oncology sector will have to work on the following aspects:
To build a co-operating network of hospitals within GBA to facilitate sharing of resources and knowledge;

Organize regular meetings and symposiums on precision oncology;

Encourage co-operation among hospitals, academic institutions and industry for the promotion of innovative research in precision oncology;

Develop standards and guidelines for the implementation of precision oncology to ensure unifies standards in patient care, treatment and data collection;

Establish a centralized data centre for the storage of anonymous patient data for the purpose of study;

Improve education and training for medical practitioners to better knowledge and skills in precision oncology; 

Promote international co-operation to improve professional knowledge and best practice in precision oncology, for the betterment of healthcare standard in this field;

Monitor the progress of precision oncology on a regular basis to locate areas for improvement.
Experts contributed to the Consensus Statements are: Joseph Siu-Kie Au, Aya El Helali, Tai-Chung Lam, William Chi-Shing Cho, Edmond Shiu-Kwan Ma, Stephen Tak-Sum Lam, Herbert Ho-Fung Loong, Jason Wing Hon Wong, S. N. Michael Wong, Victor Ho-Fun Lee, Roland Ching-Yu Leung, Johnny Kin-Sang Lau, Michael Tsz-Yeung Kam, Florence Siu-Ting Mok, Fiona Mei-Ying Lim, Jonathan Shi-Feng Nyaw, Winnie Wing-Yan Tin, Ka-Man Cheung, Oscar Siu-Hong Chan, Philip Wai-Kay Kwong, Foon-Yiu Cheung, Darren M.C. Poon, Jeannie Yin-Kwan Chik, Martin Ho-Ching Lam, Lawrence Wing-Chi Chan, Sze-Chuen Cesar Wong, Ya-Bing Cao, Cheng-Vai Hui, Jack Zhi-Jian Chen, Jian-Hua Chang and Spring Feng-Ming Kong.
To view the entire video, please click here.